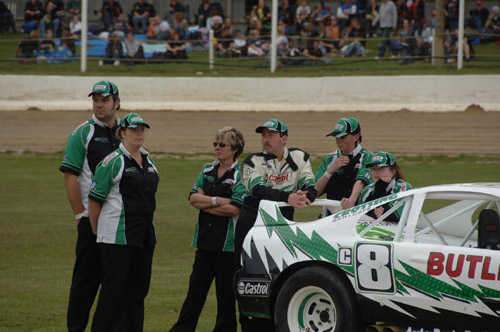 The Team / Pit Crew
Our team is truly family orientated. Roger first started racing in the early 1980's and wife Pam began getting behind the wheel around 1989. Their daughters have grown up around speedway and Casey has now followed the tradition by also jumping into the drivers seat on occasion (and winning).
Roger's niece Jenny & her husband Brendon have chosen to help out on a regular basis which has been awesome as without them the car would not look anywhere near as good from race to race.
The above picture shows from left to right:
Also joining the team for the 2009/2010 season are Ben Morris and Djared Tointon. Ben specialises in Panel Beating & Painting which is real timely considering the amount of work we need to get done on the new super saloon. Djared operates Oil Changers in Redwood and has been getting stuck into making new bits for the car already which is really awesome as it spreads the load and enables a lot of work to get done in a short time.